Man who killed partner with hammer in Devon 'not deluded'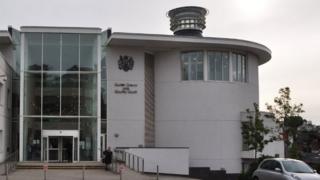 A 74-year-old man who battered his partner to death with a lump hammer was not "deluded", a court has heard.
Retired scientist, Edgar Fairhurst, killed Marjorie Elphick, 83, in their bedroom on 30 December.
Mr Fairhurst, of Riverside Close, Bideford has admitted manslaughter by reason of diminished responsibility at Exeter Crown Court, but denies murder.
However, a consultant psychiatrist for the prosecution said there was "no evidence he was deluded".
Ms Elphick suffered more than 60 different injuries including a crushed skull, four broken facial bones, broken ribs, and cuts and bruises to her hands, which were injured as she tried to protect herself.
Dr John Sandford agreed Mr Fairhurst suffered from depression, but said his was a "relatively mild" condition.
"In my opinion he had the ability to exercise judgment and his self control was not substantially impaired," he told the jury.
"I do not believe mental illness was a significant cause of his behaviour in attacking Mrs Elphick with a hammer".
The jury has been told the only issue in the case was whether Mr Fairhurst was suffering from a mental disorder at the time of the killing which substantially diminished his responsibility.
Consultant forensic psychiatrist Dr Michael Alcock, called by the defence, had told the court Mr Fairhurst stopped taking medication for depression before the killing.
He added the killer's description of having a mantra running through his head was evidence of a serious psychological disturbance.
Mr Fairhurst did not give evidence but police interviews were read to the jury in which he described himself as being irrational, maniacal and having a twisted view of reality.
The trial continues.