Delivery driver admits killing road worker in Devon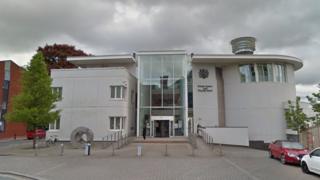 A delivery driver has admitted killing a road worker when he veered into highway staff on a roadside.
Anthony Tompkins, 47, of Trehurst Farm in Cornwall, was travelling at 55mph on the A361 in north Devon when he killed 48-year-old Steven Tolly in January 2013.
He pleaded guilty to causing death by careless driving at Exeter Crown Court on Tuesday.
The partner of Mr Tolly said she had lost her "whole world".
Click here for live updates on this story
In a statement Janice Rainey said Mr Tolly was her "soul mate" whom she had known since she was 13 years old.
"He was a brilliant dad to my daughter Jade, bringing her up as his own. She was like his shadow and they went everywhere together. He was like the father she never had", she said.
Tompkins denied using his phone while driving at the time of crash, after police found he had an eBay app open on the device which was mounted on the dashboard, the court heard.
A trial started in January 2015 but had to be abandoned after two days when it became clear that accurate eBay records were not available.
The prosecution accepted Tompkin's plea to the lesser charge of causing death by careless driving, dropping the original charge of causing death by dangerous driving.
Judge Graham Cottle adjourned sentencing until next month to wait for a report after being told Tompkins' five children may be taken into care if he is sent to jail.