Flood-hit South Pool pub gets £3,000 to repair damage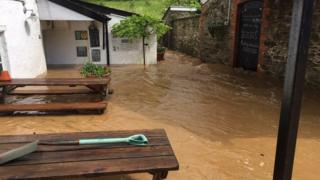 A pub that was "devastated" in a flash flood has been offered more than £3,000 in a crowdfunding campaign.
Charlie Baker, landlord of the Millbrook Inn at South Pool in Devon, said he was "overwhelmed" by the "kindness we've been shown".
The pub was among a number of properties in the area affected by the floods on Thursday.
It was uninsured because of previous flooding, but the pub has re-opened thanks to help from locals.
Mr Baker, who took over the pub three weeks ago with wife Tess, said: "We've had an amazing response with joiners, furniture makers, electricians and plumbers turning up to help.
"We've had sandbags and offers of fridges, heaters and storage."
Friends set up the crowdfunding page after it emerged the pub was uninsured.
"I've been told we can't get insurance because of previous flooding and the cost is estimated at thousands," said Mr Baker.