Rose Polge: Charity campaign for junior doctor reaches £12,000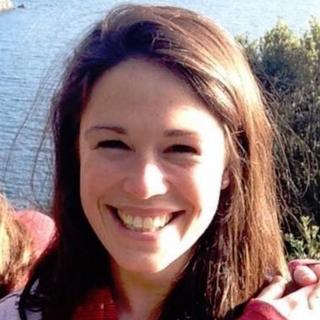 A charity campaign set up in memory of a junior doctor whose body was found in the sea off the Dorset coast has raised more than £12,000.
Rose Polge, who was 25, worked at Torbay Hospital in Devon before she went missing in February.
Her sister, Hazel Polge, said Rose had "work-related anxiety and despair at her future in medicine".
The Torbay and South Devon NHS Foundation Trust declined to comment on her health or work situation.
The trust did say it takes its duty of care to its staff seriously.
'Took her own life'
The fundraising page, set up by her Hazel Polge and named 'Rose Polge, in loving memory', is in aid of two charities, Dartmoor Search and Rescue and Mind.
The target was £500, but following 602 donations the total raised is now £12,450.
The body of Dr Polge was recovered from the sea east of Portland Bill headland on 1 April.
Dr Polge's car and hoodie were found near Anstey's Cove, near Torquay in Devon, the town where she worked.
The Just Giving page reads: "At 25-years-old, working in her first year as a junior doctor in Torquay, she rapidly became acutely distressed and took her own life. Rose was not a 'sad person' - she had an infectious enthusiasm for life."
"Long hours, work related anxiety, and despair at her future in medicine were definite contributors to this awful and final decision.
"Please give generously in her memory, not just for the junior doctor whose disappearance and death hit the headlines, but for the sweet, beautiful, kind, loving woman that she was."