Exeter City FC given stadium development approval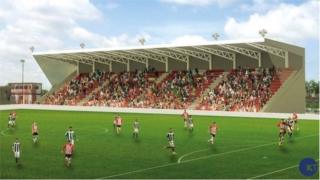 Exeter City Football Club has been given the go-ahead to re-develop its stadium St James Park.
The St James Forum had asked for plans to be called in for review after planning permission was granted by Exeter City Council.
This was rejected and development will now go ahead as planned.
The proposals include building a block of student accommodation behind the Big Bank stand and replacing the old grandstand which was built in 1926.
Exeter City chairman Julian Tagg said: "Replacing the dilapidated old Grandstand, which is approaching the end of its working life, will remove a future financial worry and will also enable the club's valuable charitable work to continue."
Both the ground and the area of land earmarked for development are owned by Exeter City Council.