Castle Drogo's £2m over-spend on leaks repairs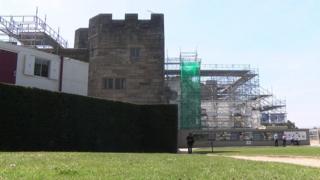 A project to repair the last castle built in England is more than £2m over-budget and six months behind schedule.
Castle Drogo in Devon has suffered severe leaking for years.
Around 600 windows have been restored so far but 40 others are still letting in water.
Two consecutive winters of stormy weather saw the National Trust spend around £160,000 on repairing damaged sheeting on the scaffolding.
The project to make the castle watertight was due to finish in 2017 but is now expected to finish in 2018.
Tim Cambourne, Senior Project Manager for the National Trust said everything had to be "absolutely perfect" to keep the water out.
"The granite being very hard, it's very unforgiving. The slightest crack in the mortar or a gap anywhere, because of the severity of weather we get here, it will drive water through."