Devon Tiger Moth plane crash pilot injured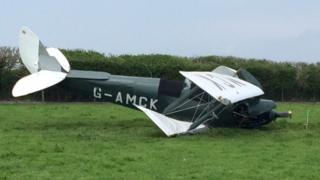 A pilot has been injured after his Tiger Moth plane crashed into a field.
The sole occupant, a male pilot, is being treated for leg and back injuries after the crash at Weston, near Branscombe airfield in Devon.
A witness said the vintage plane "suddenly fell out of the sky" and landed with a "thud".
Emergency services and a Devon and Cornwall Police helicopter are at the scene, where the privately owned aircraft came down.
A police cordon is in place and the Air Accidents Investigation Branch (AAIB) has been informed.
According to the AAIB the same plane was involved in a crash in 2001.
Witness Karen Fursey said: "I saw the plane flying lower and lower and then it smashed into the ground.
"I saw the pilot had got out of the plane - he sat down, got up and sat down again."