Plymouth leg wax sting exposed £24,000 benefits con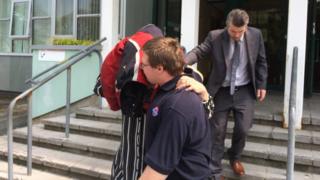 A beautician exposed for dishonestly claiming £24,500 in disability benefits when she waxed the legs of a secret investigator has been sentenced.
Tracy Carter-Lunn, 55, said she had a bad arm and could hardly walk, Plymouth Crown Court heard.
Carter-Lunn, of Stott Close, Plymouth admitted falsely claiming benefits from 2006-2010 and from 2012-2014.
She was jailed for nine months, suspended for 18 months, and ordered to do 180 hours of unpaid work.
Carter-Lunn said she had nerve damage in her arm from falling through a glass door when she was seven.
And she claimed a botched operation had affected her mobility.
But a social security investigator found she was fit enough to work at 50 Shades of Hair and Beauty Salon in Plymouth, the court was told.
She was also able to carry two cups of tea without spilling them.
Recorder John Williams said she had come "very close" to going to prison.
"You are completely ashamed and have brought shame on your family," he told her.
"It is grossly unfair to taxpayers and to people who claim these benefits who are subject to suspicion because of people like you who abuse the system."