'Dirty Rotten Scoundrel' fraudster jailed for £4.5m swindle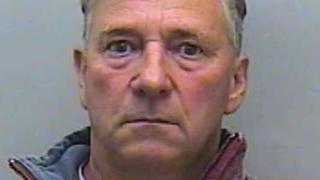 A man described in court as a "Dirty Rotten Scoundrel" has been jailed after running a £4.5m international investment swindle.
Racehorse owner Joseph Birch, 63, of Horns Cross, North Devon, persuaded rich Americans to invest in fake firms.
At Exeter Crown Court, he admitted five counts of fraudulent activity.
Birch spent his money on luxury holidays and expensive cars and was jailed by a judge for seven years and six months.
Richard Shepherd, prosecuting, said "His frauds were reminiscent of Michael Caine and Steve Martin in Dirty Rotten Scoundrels."
'Knight of the realm'
Birch pleaded guilty to four counts of removing or converting criminal property and one of possessing articles for use in fraud.
His wife Grit, 46, of Rifford Road, Exeter, admitted possession of articles for the use in fraud and was sentenced to six months, suspended for two years.
Judge Graham Cottle said: "The scale of these frauds is breathtaking. There is nothing even remotely legitimate about any aspect of your activities. This fraud was on an international scale.
"You pretended to be a knight of the realm, a lord, and a major in the army. It was all totally fictitious."
Mr Shepherd said Birch was caught after police raided the farm and found a large number of documents.
"In reality, there is no evidence of any legitimate income," he said.
"They benefited from his frauds with a luxury lifestyle."
Fake companies
The court was told the defendant spent a fortune on his stables at North Tawton, near Hatherleigh, as a way of hiding the money.
He invented a string of fictitious companies including Energy Enterprises International, Ultimate Elite, Phlorian Racing and the Birchwood Stud as ways to dupe investors.
The court heard he forged documents that purported to show the companies had vast resources.
One was said to have £10bn Euros in the bank, and others to have assets of £1tn US dollars and £3tn Euros.