Rare titan flowers bloom at Cornwall's Eden project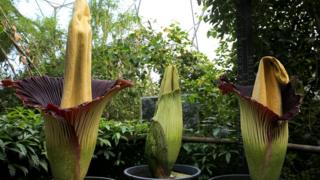 A pair of rare "corpse flowers" nicknamed after their terrible stench have bloomed at the same time.
It is the first time two Titan Arum, housed at Cornwall's Eden Project, have opened together, staff said.
The larger of the two blooming flowers opened on Monday, after the smaller of the pair opened on Sunday night.
They only bloom for 48 hours, and give off a "horrendous odour" likened to decaying flesh which attracts pollinators.
The two flowers are situated in an "avenue of stench" in Eden's Rainforest Biome, flanking a third flower which is set to bloom soon.
Horticulturist Tim Grigg said it was an "incredibly rare occurrence".
Pollinated by beetles and flies, the titan arum is a rare and striking flower that usually lives for between seven and 10 years before flowering for as little as 48 hours and then dying.
The plant originates from the rainforest in western Sumatra, Indonesia, and grows on steep hillsides.
Mr Grigg said the plant was rare in the wild and even scarcer in cultivation.