Father died in Royal Devon and Exeter Hospital corridor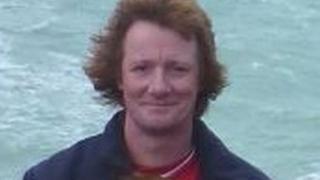 A man who collapsed and died in a hospital corridor had not been examined by staff that day, an inquest heard.
Calvin Marchant, 48, was diagnosed with acute pancreatitis by doctors at the Royal Devon and Exeter Hospital in January 2015.
The father-of-four was in pain and vomiting when he was admitted and died the following day, the court was told.
His life may have been saved had it not been for "missed opportunities", lawyers for his family said.
The hearing in Exeter heard the hospital had been between a black and red alert status - which means services are unable or struggling to cope with demand - when Mr Marchant was admitted.
'Particular concern'
Consultant Andrew Gee saw Mr Marchant from Sidmouth, Devon, on Friday 2 January and diagnosed him as suffering a mild attack of pancreatitis.
He said the patient was not seen by any medical staff on the Saturday and the on-call team would "only see patients who were causing particular concern".
Blood tests on Saturday "should have picked up" that his condition had deteriorated but it was only noted by medical staff once he was taken to intensive care.
Mr Gee added had treatment been escalated on the Saturday afternoon "then you would hope the treatment would reduce the chance of dying but you cannot guarantee it".
Mr Marchant collapsed in the hospital's main corridor and died later that day.
The court heard an internal inquiry was launched after his death and it is now mandatory for all patients to be seen by the on-call team at weekends.
The inquest continues.