Derek Snelling, who stole £41k from mother, ordered to repay £1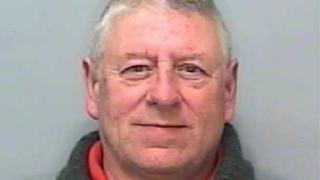 A man who lived a luxury lifestyle after stealing £41,000 from his mother has been ordered to repay £1 - because he has no assets.
Derek Snelling, 70, was taken to court under the Proceeds of Crime Act after he admitted four charges of fraud and was jailed for two years in 2015.
Snelling, from Hartland, Devon, stole the money from the 93-year-old over six years, Exeter Crown Court heard.
His mother previously said she "wanted to wring his blooming neck".
Tunisia, Tenerife and Caribbean
Snelling spent the money on a luxury lifestyle and foreign holidays, the court heard.
He had originally been assessed as having £4,000 but further inquiries by the Financial Investigation Unit showed the money did not exist, the court heard.
Emily Pitts, prosecuting, told the original hearing in 2015 that Snelling took over his mother's finances in August 2007 as she became more frail and took the money from her accounts until his daughters called the police in 2013.
She said his daughters Shelly Cornish and Glenda Pengilly became suspicious about the amount Snelling was spending and took their grandmother to the bank to get a statement.
Miss Pitts said: "He treated her bank account as his own. He was living on a pension but was spending large sums of money and his daughters thought he was living beyond his means.
"They knew he had been bankrupt and was rubbish with money but in 2012 alone he went on holiday to Tunisia, Tenerife, went on a Mediterranean cruise and booked another to the Caribbean for £3,000."
John Dyer, defending, denied Snelling had used the money for holidays, which he said were paid for by his wife out of her £35,000 salary as an ambulance paramedic.
His mother - who gave evidence against Snelling - died during the case.