Rare albino blackbird spotted in Devon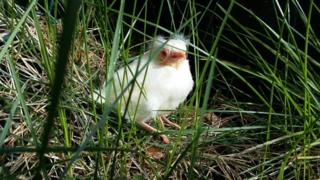 A rare albino blackbird has been spotted by a member of the Devon Wildlife Trust.
The "white blackbird" was discovered by Jo Pullin in Hatherleigh, who has worked for the trust for 14-years.
She said her children spotted something unusual in the undergrowth at the edge of her garden that turned out to be the bird.
The British Trust for Ornithology said it gets reports of only one or two pure albino blackbirds per year.
A spokesman said this one, with bright pink eyes is much rarer than ones with darker eyes, of which they see about 10 annually.
Mrs Pullin said: "I have never seen a completely white blackbird. It looked very vulnerable. It looked like it had only just recently left the nest."
A spokesman for the Royal Society for the Protection of Birds said: "Albino birds are quite rare: albinism is caused by a genetic mutation resulting in a completely white bird with pink eyes.
Survival strategy
Steve Hussey from Devon Wildlife Trust said it was unlikely the bird was still alive: "Being pure white isn't a great survival strategy for a blackbird, particularly as a fledgling.
"When you've just left the nest you want to be as inconspicuous as possible to avoid the predatory eyes of cats and sparrowhawks.
"Added to this, part of the condition of albinos often means they have poor or little eyesight. I fear that this little chap's life was probably a very brief one. "