Caged dog Stella exercised after being held for two years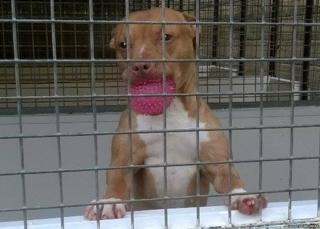 A dog kept in a cage by police has been exercised for the first time in two years.
Pitbull Stella, seized in 2014 and kept in a 3ft by 9ft cage, has been moved to a different kennel with an exercise area.
Devon and Cornwall Police previously said she was too dangerous to be exercised by kennel staff.
Stella's owner, Antony Hastie, is appealing a destruction order against her.
'Help and training'
Mr Hastie said: "She's in a new kennel now with an exercise area. People are being nice to her and she deserves that.
"After being in a kennel for two years, not getting any exercise or interaction, she needs help and training.
"Knowing she is leaving that small cage for a little while makes me feel much better, she has got a chance.
"So long as she is alive and safe that is all I care about."
The BBC reported how whistleblowers made a series of allegations about dogs in the care of Devon and Cornwall Police that were put in cages and then, due to safety concerns, not exercised.
These include Stella, who had been caged for nearly two years, and Vinnie, a Rottweiler who whistleblowers said had also not been exercised.
Devon and Cornwall Police said they used the kennels for a number of seized dogs, but added that since 2012 they had only instructed staff not to exercise four of these.
But current and former members of staff told the BBC as many as 20 dogs had 'Do Not Enter' signs on their cages.
Conservative MP Neil Parish said a parliamentary inquiry is to be held into how police forces deal with seized dogs, calling for a "uniform" country-wide policy.
The RSPCA also said it had agreed with the Devon and Cornwall Police force's request to review the way in which dogs seized under the Dangerous Dogs Act 1991 were cared for in kennels.
The original kennel Stella was kept in, Foredowne Boarding Kennels, is being investigated by the licensing authority, Teignbridge Council.
In a statement Foredowne Boarding Kennels said the council "carried out their inspection over a month ago and no concerns have been raised with us".
"We are confident that we have abided by all the relevant rules and regulations."
Petitions to save Stella have attracted more than 80,000 signatures, along with offers to fly her to the United States to an American pit bull sanctuary.