Devon and Cornwall Police plan to double Taser officers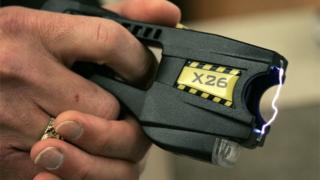 Doubling the number of officers carrying Tasers will help keep rural communities safe, police have claimed.
Devon and Cornwall Police said the proposed leap from 530 to 1000 officers by 2018 would help police in isolated areas where back-up was not nearby.
Supt Ian Drummond-Smith said the force hoped the increase would have a "deterrent effect" on offenders.
Human rights group Amnesty International expressed concerns about the "proliferation" of the devices.
The plans, which will go to public consultation, would mean a third of the force would carry the stun guns.
Tasers incapacitate someone by delivering an electric shock which interferes with the body's nervous system, and is designed to allow officers to deal with violent suspects at a distance.
The devices have been involved in controversial cases, such as that of 32-year-old Andrew Pimlott, from Plymouth, who died after police fired a Taser at him while he was covered in petrol holding a lit match.
Amnesty claimed there have been 500 fatalities in the United States linked to Tasers since 2001, and said it did not want to see them become a "default" option for officers.
"We'd hate to be in a situation where every policeman has a Taser and it becomes default use, almost as you would use a truncheon in years gone by," Wailim Wong from the charity said.
However, Supt Drummond-Smith said the chances of officers using a taser was "very small" and the force did not believe this would increase with more officers carrying them.
"We would hope the less-lethal deterrent taser offers will change the offender's behaviour at a time when they may be thinking of assaulting an officer or threatening themselves and others," he said.
Between January 2011 and October 2015, Tasers were drawn in 1,250 incidents but only fired on 306 occasions, amounting to 0.02% of all attended situations, according to Devon and Cornwall Police.