Ex-captain David Axon loses privacy case against MoD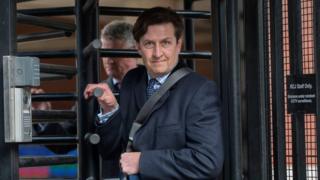 A former navy captain who was the subject of a leak to the press has lost his privacy claim against the Ministry of Defence (MoD).
MoD "mole" Bettina Jordan Barber sold details about disciplinary proceedings involving David Axon to the Sun newspaper for £5,000.
Mr Axon had claimed the ministry was vicariously liable for the breach of confidence.
But a High Court judge rejected his claim for compensation.
Mr Axon was removed from HMS Somerset, based at Devonport, in 2004 after an investigation found evidence of "shameful" bullying against junior officers.
An equal opportunities investigation concluded his position on board was "untenable", and he left his ship four days before the article appeared in the press.
His story was among a number sold to the press by Ms Jordan Barber, who was jailed for 12 months in 2015 over her seven-and-a-half year role as a paid informant for the newspaper.
Mr Axon argued that the investigation was intended to remain private and it was a matter "of great regret" that the process was subverted by a breach of his confidence.
However, Mr Justice Nicol said Ms Jordan Barber's duty to keep official information confidential was owed to either the Crown or the MoD, not to Mr Axon, and he "did not have a reasonable expectation of privacy" over the information leaked to the Sun newspaper.
The judge rejected Mr Axon's claim that he was entitled to compensation from the MoD because it was vicariously liable for her breach of confidence, misuse of private information and a breach of his Article 8 privacy rights under the European Convention on Human Rights.
A spokesperson for News UK, which owns the Sun, said the newspaper would "always robustly defend its journalism" and would now be seeking legal costs, adding that the judge had found the publication to be "in the public interest".