Intimidating neighbour Wayne Howard could face jail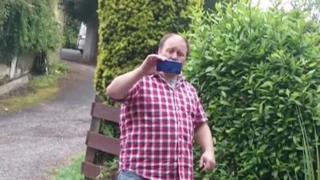 A neighbour who "enjoys and thrives on conflict" could face prison following a 14-year campaign of harassment.
Wayne Howard, 43, from Marldon, Paignton, intimidated neighbours and filmed confrontations which he later posted on social media.
At Exeter County Court Judge Barry Cotter found Howard in contempt of court for breaching an injunction to stop harassing his neighbours.
The judge said Howard, who did not attend court, could now face prison.
Howard has shone security lights into neighbours' houses and backed his car into plant pots.
The judge said Howard viewed his relationship with his neighbours as "little short of war".
Howard is expected to be sentenced later in April.