Five teenagers rescued from Dartmoor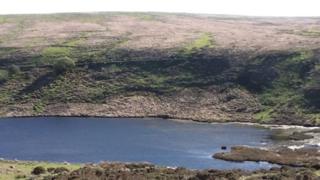 Five teenagers have been rescued from Dartmoor, after they pitched an emergency shelter when Storm Katie hit.
Volunteers from Dartmoor Search and Rescue Ashburton were called out at 23:45 BST on Sunday.
They followed a tracking device the teenagers were carrying and found the hikers to the north west of the Avon Dam Reservoir on Dartmoor an hour later.
The teenagers from Sussex had been on an overnight hike and camp.
A spokesperson for the search team said the group was found "cold and wet but unharmed".
Ian Lowcock, team leader of Dartmoor Search and Rescue Ashburton, said the teenagers, who were training for a three-day expedition, made an alert call to their supervisor when they realised they had "no exit route" because "the rivers were so swollen".
Mr Lowcock said the hikers were forced to abandon their training because of the "sheer volume of water" that had swept across the moors during Storm Katie.