Devon medieval priory to get £115k for urgent repairs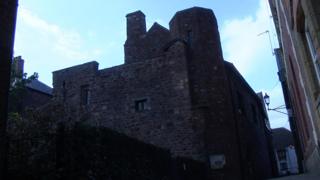 A medieval priory in Devon is to receive a cash boost of £115,000 to help pay for urgent repairs.
St Nicholas Priory, said to be one of the oldest buildings in the county, needs the money for structural works.
A report from Exeter City Council has also recommended that the attraction should be managed by the community.
Councillor Rosie Denham said it would be reopened to the the public "as soon as possible".
Although the money has been approved at committee level, the final decision lies with the full council.
The report, which also involved the government heritage agency Historic England, identified "urgent structural repair and building conservation issues" with the building.
Councillor Denham said: "It's one of Exeter's most important historic buildings.
"It's a significant investment but we have a real duty of care with this building. We must preserve it for the people of Exeter and Devon."
The attraction had been managed by Exeter's Royal Albert Memorial Museum and Art Gallery (RAMM) but the report found that the priory was not attracting enough visitors to keep it open on a regular basis.
Councillor Denham said placing St Nicholas Priory in the hands of the community was "just an idea" at this stage.
"At the moment there are limited public access times because there's not a dedicated staff for the building.
"If the community can help us to widen that access, to improve the interpretation and awareness of the building, then that's got to be a good thing."