Kingsbridge glue attacker seals car from owner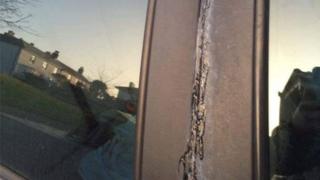 A woman was locked out of her car after it was sealed with a super-strong glue.
The locks, door, petrol cap and even wipers were all covered in the adhesive on the Citroen in Kingsbridge, Devon.
Owner Jenny Bradshaw said: "I wracked my brains but can't think of anyone I could have upset enough to do that."
PC Rich Loxton of Kingsbridge Police said the attack was "pointless" and had caused "great upset, distress and inconvenience".
Read more on this story as it develops throughout the day on our Local Live pages
Ms Bradshaw said she managed to prise open the passenger door and drive it away, but the paintwork had been badly damaged.
Retaliation
"I thought it was a practical joke at first," she said.
"Then I realised they had glued the wiper and petrol cap and there were random blobs of glue all over the car."
Most of the glue has now been removed with nail varnish remover, she said.
"My dad took an hour and half removing it. My car wasn't in the best condition anyway but it's made it look worse now."
PC Loxton said: "If you are the person who did this then maybe get in touch so we can discuss your reasons behind it and save us the financial costs of a forensic investigation."
He said such attacks were often retaliation, but the owner was a "lovely person and we do not know the motive behind it".
The car was near the former St John's Ambulance centre in Fore Street at about 17:00 GMT on Saturday when it happened.