Rooftop violence causes closure of Plymouth road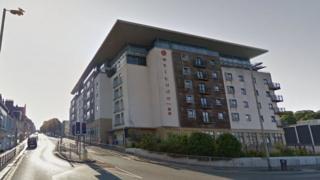 Police closed a main road due to a group of men throwing objects down from a top-floor flat.
Four men were arrested for public order offences at a block of flats in Albert Road in Devonport, Plymouth.
Kate Taylor, a Plymouth City councillor who lives nearby, said police using riot shields forced their way into the fifth-floor flat to get to the men.
Ms Taylor said a group of men had been out on balconies of the Latitude flats shouting from around 07:30 GMT.
She said there was broken glass on the road which was closed for an hour from around 09:45.
Police said nobody was injured in the incident and four men were being questioned.