Woman rescued from van by charity cyclists in Devon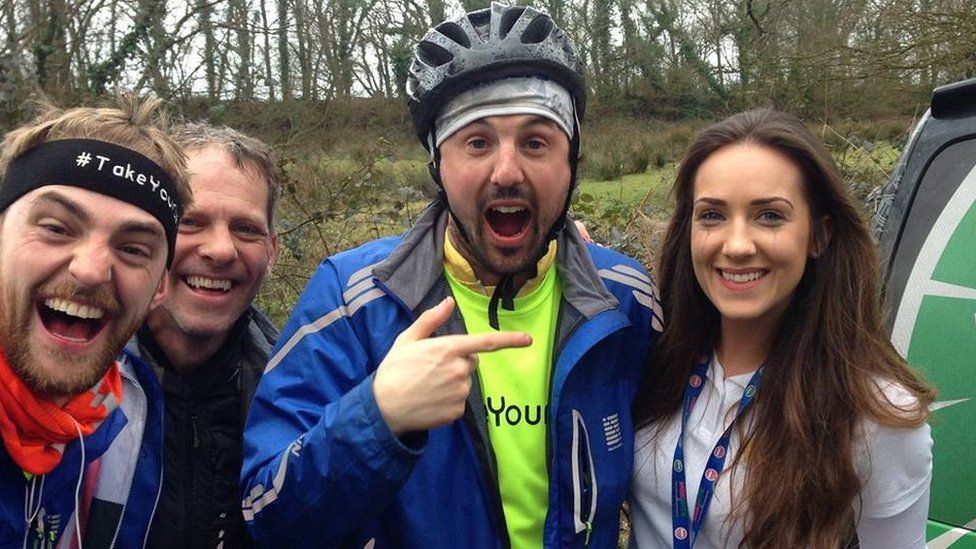 A woman trapped in a van for four hours was rescued by cyclists on a charity ride from John O'Groats to Land's End.
Jamie McDonald, one of a team of 11 cyclists, said they heard cries from the van in a quiet wooded area just off a stretch of road in Devon.
He said he initially thought it was "a kidnapping".
Gemma Lloyd, from Worcester, became trapped after climbing into the back of the van to get a pen, but the wind then closed the door behind her.
Mr McDonald, a self-professed "adventurer" who spent almost a year running across Canada, said: "As we got closer and realised it was definitely a woman banging on the doors of the back of a van and screaming for help, we were scared ourselves.
"To come across this girl going absolutely bonkers in the back of the van, in hysterics, it was surreal, it was really petrifying."
Mr McDonald, from Gloucester, said his "imagination leapt to somebody being close by" and he thought they were "probably going to have to fight the kidnapper".
Ms Lloyd, who had left her mobile phone out of reach in the front of the van, said she was "really overwhelmed" when the cyclists opened the door.
She told the BBC she tried "to look for different things, look for catches or anything" but that it was "a very secure van" which had no door handles on the inside.
The cyclists, who are trying to raise £250,000 for Sport Relief, have visited universities across the country, including Leeds, Sheffield and Bristol, where they have organised outdoor static bike riding sessions for students.
The charity ride, organised by Unite Students, has so far raised more than £100,000.
The team started at John O'Groats on 27 February and are due to finish at Land's End at about 16:00 GMT on Thursday.