On-the-run cocaine and heroin dealer Donovan Thomas jailed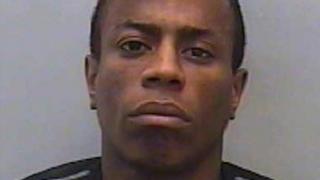 A drug dealer who was caught by police selling heroin while on the run has been jailed for six years.
Donovan Thomas vanished after he was caught with crack cocaine and heroin in 2014, Exeter Crown Court heard.
He jumped bail and remained on the run until police caught him a year later in the same part of the city.
Thomas, 28, of South London, admitted three counts of possessing class A drugs with intent to supply and absconding from bail.
Jonathan Barnes, prosecuting, said Thomas was first arrested when police raided a flat in Fore Street in July 2014, and found him hiding behind a sofa.
Officers recovered 24 packages of heroin, 21 grams of crack cocaine, and £640 cash.
He jumped bail and remained on the run until September 2015, when police spotted him acting suspiciously on Exeter Quay.
Officers found him with 14 grams of heroin, which were worth more than £1,100, and £385.20 in cash.
Mr Barnes said: "He was part of what was plainly a professional drug supply chain."
Stephen Nunn, defending, said Thomas had returned to London after being bailed in 2014 and was reluctant to hand himself in because his partner was pregnant and he wanted to be present for the birth of their child.