Devon disabled adults 'left to soil themselves'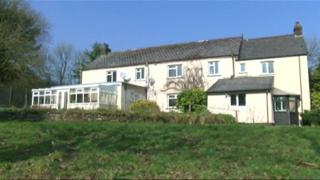 Disabled adults living in care homes were shut in and left alone in empty rooms for so long they wet or soiled themselves, a court heard.
The rooms at Vielstone and Gatooma care homes in Devon had been used more than 1,000 times, Bristol Crown Court was told.
The "imprisonment" was likened by prosecutors to training an animal.
The boss of the homes and four staff are accused of a string of offences against seven residents.
Read more on this story as it develops throughout the day on our Local Live pages
Paul Hewitt, 70, managing director of Atlas Project Team Ltd, and employees Lee Farrant, 30, James Lawson, 41, Julie Barlow, 51, and Aaron Jones, 33, all of Devon, deny the charges between 2010 and 2011.
The court heard residents were kept in either the "garden room" or the "quiet room" at the care homes in Bideford and Holsworthy, sometimes overnight.
'Deliberately cruel'
Andrew Langdon, prosecuting, said: "The view was taken that residents somehow learned to behave badly and that behaviour had to be unlearned and if they were put in those rooms when they behaved badly that might teach them a lesson and they might learn to behave.
"You don't need me to tell you that this was an unsatisfactory way to treat people with learning disabilities.
"It was, we say, misguided and was deliberately cruel and the case we bring amounts to systematic false imprisonment and that was the prevailing culture."
Mr Hewitt denies charges of conspiracy to detain and imprison falsely and failure to discharge a duty.
Mr Lawson denies eight charges of false imprisonment, Mr Farrant six charges of false imprisonment and Mr Jones and Ms Barlow three charges each of false imprisonment.
The court heard that the inquiry was launched in 2011 after a whistleblower contacted the Care Quality Commission (CQC).
Vielstone was last inspected by the CQC in 2007 and given a "good" rating, while Gatooma was rated as "excellent" in December 2009.
The case continues.