Exeter historical finds to be investigated further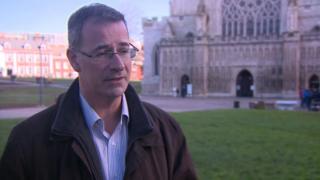 Pottery and bone fragments discovered in Devon 30 years ago could reveal more about the history of Exeter thanks to new scientific techniques.
A £1m project will see objects discovered in the 1970s and 1980s examined by experts from the University of Exeter.
The artefacts are from the Royal Albert Memorial Museum's collection in Exeter.
Experts will use multi-isotope analysis and dendrochronological and radiocarbon dating, as well as chemical analysis.
Professor Stephen Rippon, professor of landscape archaeology at the University of Exeter, said it would show "where the people of Exeter got their food from and also the various trading connections the people had".
"These trading connections led to Exeter, in the 16th Century, being the fifth wealthiest city in England."
One area they hope to get more information on is where people brought animals from for slaughter.
Professor Rippon said the research would help discover how far away animals were grazed through analysing the chemistry of their teeth.
He said: "These are techniques developed in the last few years and they have never been applied to material from Exeter.
"This will show the relationship that Exeter had with its local area, the South West and Europe."
There were excavations on 89 sites within the city between 1970 and 1990.
This work played a key role in understanding the city's history, revealing its origins as a Roman legionary fortress, but researchers are now hoping to find out more.
The findings from the four-year project, which begins in June, will be displayed in the Royal Albert Memorial Museum.