Highest honour for D-Day veterans in Plymouth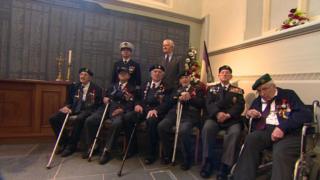 Five D-Day veterans have been awarded France's highest honour for helping to liberate the country during World War Two.
The men were presented with the Légion d'honneur by the South West's Honorary French Consul at a special ceremony at Plymouth's Ford Park Memorial Church.
The service also remembered service personnel who died in the war.
The award is France's top accolade for people who distinguish themselves through civilian or military courage.
'Became men overnight'
James Tigweed, one of the five recipients, said: "It's a nice thing to be remembered. I feel very honoured.
"I was a tank gunner and only 21 years old. It was no party, put it that way. You're scared at the time but you get used to it."
"It shows appreciation from the French."
Philip Tovett said: "If it wasn't for people like us, you wouldn't have the freedom we have today.
"We went there as boys and we became men overnight."
In 2014, the French government said it wanted to recognise the selfless acts of heroism and determination displayed by all surviving veterans of the landings by awarding them with the Légion d'honneur.
Jim Yearling, from the Normandy Veterans Plymouth Club, said: "The boys really deserve the medals."