Devon County Council votes to scrap lollipop patrols in £26m cuts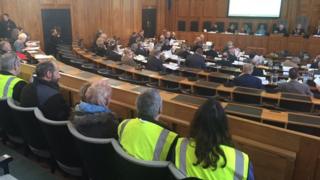 Budget cuts of £26m which include scrapping Devon's lollipop crossing patrols have been approved by county councillors.
A 3.99% rise in council tax for 2016-17 has also been agreed.
The authority said the scrapping of lollipop patrols would save it £250,000 a year.
But parents who protested against the move outside County Hall in Exeter said cuts should not impact on children's safety.
Lollipop patrol cuts will be discussed at a scrutiny committee meeting in March after a Liberal Democrat amendment.
Mother-of-two Lucy Hinton said: "It is really Devon County Council's responsibility.
"The decision-makers themselves have said they have a duty to protect the old, the young and the vulnerable, and who is younger and more vulnerable than children crossing the street?"
A total of 36 councillors voted to increase council tax and 20 voted against the rise.
The increase comprises a 1.99% rise in council tax and 2% specifically to fund adult social care.
It means the bill of the average band D property will increase by £46 a year.
In November, the government announced it would allow local authorities in England to increase council tax by 2% to cover a funding shortfall in adult social care.
On Tuesday Cornwall Council also approved a 3.97% rise.