Weather forecasters at Met Office to go on strike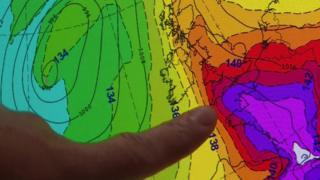 Met Office weather forecasters are set to walk out in a pay protest.
The Prospect union says the Met Office should be able to match private sector pay rates and needs to pay women more to address gender inequalities.
The Exeter-based organisation provides weather forecasts and climate information for clients around the world.
A Met Office spokesman said some services could be disrupted by the action, due to take place on Wednesday.
Helen Stevens from Prospect said: "The impact is that women are being discriminated against and the Met Office is unable to recruit specialist staff."
The union said the Met Office should be given the "freedom to manage its own pay bill".
Prospect said it would call on about 900 Met Office staff in Exeter and around the UK to take part in the industrial action.
The Met Office said weather forecasts would continue to be available.
However, a spokesman added: "Some disruption to services is possible and we are working to ensure those which are critical for safety of life and property are maintained."
The Met Office provides information for a wide range of customers including the armed forces, energy and retail companies and for BBC weather forecasts.
In August last year it was announced the BBC was cancelling its weather forecasting contract with the Met Office after 93 years.
A spokesman for the Department for Business, Innovation and Skills (BIS), which is responsible for the Met Office, said public sector pay was "comparable to the private sector" when pension contributions were taken into consideration.