Armed officers challenge lightsaber man in Plymouth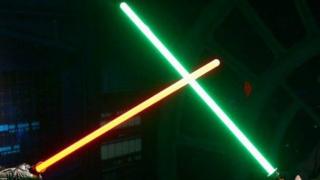 Armed police officers called to reports of an armed man at a busy shopping centre found the suspect carrying a lightsaber.
Police in Plymouth sped to the Drake's Circus shopping centre after members of the public reported a man thought to be carrying a rifle.
But when the armed response vehicle arrived at the scene officers found the man was carrying a lightsaber in a bag.
In a tweet Devon and Cornwall Police quipped, "May the force be with you!"
A spokesman for Devon and Cornwall Police said officers were called just before 12:00 GMT to reports of a man in his 50s "possibly in possession of a rifle".
The misunderstanding was made clear when officers approached the man and no arrests were made.
Lightsabers originated in the Star Wars movies and are classed as toys, rather than weapons.