Police 999 response worsens in Devon and Cornwall for sixth year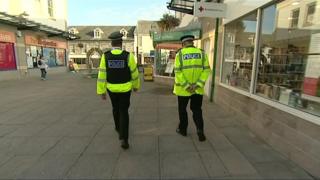 Police are responding to a smaller proportion of emergency calls within target times for the sixth year running, the BBC has learned.
Officers in Devon and Cornwall failed to get to 999 calls within the 20 minute target time in 27.7% of cases last year.
It compared to 13% of cases in 2010.
Chairman of the Devon and Cornwall Police Federation Nigel Rabbitts said: "This is down to cuts to policing."
Around 500 officers have been cut in Devon and Cornwall since 2010, because of budget reductions.
Mr Rabbitts told the BBC: "There are fewer officers trying to cope with more and more demands."
Deputy Ch Con of Devon and Cornwall Police Bill Skelly said: "The demand on 999 calls has increased in recent years. In 2015 we attended more than 72% of all 999 attended incidents within a 20 minute target times - some 37,300 incidents.
"Officers are attending more incidents now with fewer resources, and we are still attending the vast majority of incidents within target times which we set ourselves.
"With 4,000 sq miles to cover as a Force geography, having a unit attend remote areas within 20 minutes is not always possible. However, the public can be assured we will get to urgent incidents within target times on the vast majority of occasions."
The Home Office said police reform was working and crime had fallen, adding that there was "no question" that police will have the resources "to do their important work".