Ex-school teacher 'groped' teen girls, court hears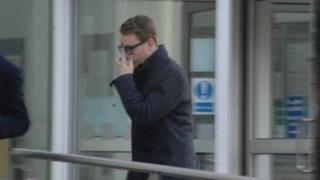 A public school teacher sexually assaulted three teenage girls by groping them, a court has heard.
Chay Roberts-Jones was a physics teacher at Blundells School in Tiverton when he sexually abused the girls who were aged 16 and 18 at the time, Exeter Crown Court heard.
Mr Roberts-Jones, 29, of Preston Street, Exeter, denies three counts of sexual assault.
He was suspended in 2014 over the allegations.
'Shocked'
A 16-year-old alleged he touched her breasts over a t-shirt during a camping trip, while an 18-year-old said he touched her inappropriately while massaging her.
Lee Bremridge, prosecuting, told the court that one of the girls said she was "shocked" by the alleged offence and "felt it was surreal".
Mr Roberts-Jones denies all the allegations and branded one of the girls as an attention-seeker when he was interviewed by police.
Mr Bremridge said another girl came forward as a result of the teacher's court appearance being reported in the local press.
The court heard he was living in a cottage in the school grounds and was engaged to a female teaching assistant at the time the alleged offences took place in 2011, 2013 and 2014.
The trial continues.