St Davids vicar fits gates to stop anti-social behaviour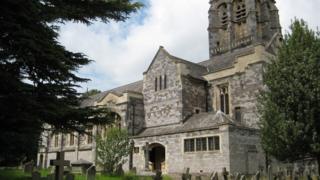 A vicar has fitted iron gates to a church to stop people defecating in a side entrance.
Anti-social behaviour has been caught on CCTV outside St David's Church on the outskirts of Exeter, the Exeter Express and Echo reported.
The Rev Tom Honey said this included couples having sex, people defecating and drug use.
He said: "It was becoming dangerous" and that people could be heard "shouting and swearing" in the night.
Mr Honey said: "I don't really have an issue with couples having sex in the porch. I do have an issue with people leaving needles and faeces."
He said the church had become an area where homeless people congregated, and the church tried to make them feel welcome by offering them soup once a week.
The cash for the gates came as part of a restoration project at the church.
Exeter Community Safety Partnership, (Exeter CSP), which is made up of the police and local authorities, said it supported the church's action against anti-social behaviour by drug users and homeless people.
Acting Insp Martin Burrow said: "This behaviour can include begging, leaving litter and other debris, obstruction to pavements and walkways and the gathering of disorderly and intimidating groups."