BBC Radio Devon presenter Tony Beard dies from cancer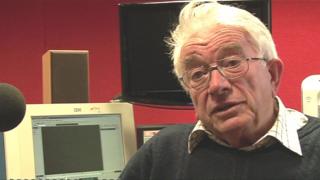 BBC Radio Devon presenter Tony Beard has died aged 79 from cancer.
Mr Beard, known for his love of Devon culture and folklore, died peacefully on Saturday morning, his family said.
Known as the "Wag from Widecombe", he presented a Sunday request show for many years.
BBC Radio Devon editor Mark Grinnell said: "Our thoughts and sympathies are with Tony's wife Wendy and family." Beard announced in April 2015 that he had been diagnosed with bladder cancer.
Mr Grinnell added: "He was as much a part of the radio station as he was of the county. He was recently honoured with lifetime achievement award at the BBC Gillard awards for his contribution to local radio and he was an extremely popular member of the station family."
Listeners and community members have paid tribute to Mr Beard on the BBC Radio Devon Facebook page.
Jason Rice, from the Dartmoor Folk festival, said: "Tony was a loyal and dedicated supporter of the folk festival and all things Dartmoor.
"He was the irreplaceable MC of our Sunday night Music Hall for 35 years and we will miss him terribly."