Dutch Navy joins RNLI in 24-hour rescue of cargo ship near Devon coast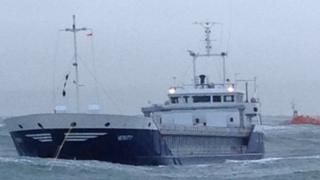 A Dutch warship helped rescue a 300ft (91m) cargo ship drifting close to the north Devon coast in rough seas and heavy winds.
The Verity was carrying 3,000 tonnes of scrap metal when its engine failed four miles off Hartland Point.
Padstow and Appledore RNLI lifeboat volunteers were joined by the Dutch Frigate HNLMS De Ruyter to rescue the crew.
RNLI volunteers spent more than 24 hours at sea helping the cargo ship.
Alan Tarby, Padstow RNLI Coxswain said: 'It was excellent team work from the RNLI lifeboats and the skipper and crew from the Dutch Warship did an amazing job in difficult conditions.'