Rare British butterfly expands into Devon forest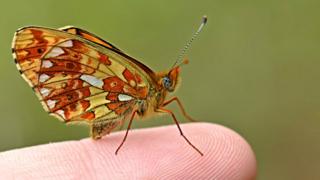 One of the most endangered butterfly species in the UK has colonised a new area of forest in Devon.
The Pearl-bordered Fritillary population dropped by 95% in the past 40 years.
The species can be found in small pockets of the Forestry Commission's Haldon Forest Estate near Kennford.
The charity Butterfly Conservation created new habitat nearby, and the butterflies have expanded into the new areas of the forest.
Read more on this story as it develops throughout the day on our Local Live pages.
Project leader Jenny Plackett, said: "This orange, black and yellow coloured butterfly is named for the border of silver 'pearls' that run along its hindwing.
"The overall loss in its habitat has been extreme, so this project was vitally important to securing the future of the Pearl-bordered Fritillary here in Devon."
Further habitat creation will be carried out by the Forestry Commission this year and the butterfly will be monitored by volunteers in the new site.