Council tax rise could plug police funding gap in Devon and Cornwall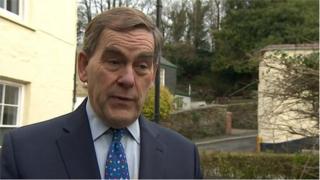 Homeowners should pay more council tax to plug a £1.8m police funding gap, Devon and Cornwall's Police and Crime Commissioner has said.
Tony Hogg has said there should be a 1.99% rise in council tax from 1 April to help protect police services.
Devon & Cornwall Police is facing cuts of £13m over the next four years.
The Tax Payers' Alliance has warned the proposed rise would hit "hard-pressed" families.
More on this story and other news from Devon and Cornwall.
If the proposals are confirmed, it would mean an increase of £3.37 a year for Band D homeowners and provide around £1.8m each year.
"In November the Government made the welcome decision to lessen the level of cuts the police face in coming years but that still left a reduction in grant income of 0.6 per cent," said Mr Hogg.
"In cash terms this is a cut of around £1m next year but, with additional increased costs, the shortfall after tax base-changes is closer to £1.8m - the revenue from an increased council tax will cancel that out.
"Since 2009 we have delivered over £58m savings and an additional £13m is still to be found over the next four years."
Jonathan Isaby, chief executive of the Tax Payers' Alliance, said: "A tax rise of this level will come as a blow to hard-pressed families.
"At a time when residents are feeling the pinch, public bodies should be doing everything they possibly can to ease the tax burden, not raise it.
"Devon Council has raised council tax 16 times in the last two decades, so decision makers should make sure every bit of waste is cut out before asking taxpayers to dig deeper into their pockets."