Devon driver killed as three-wheeler crashes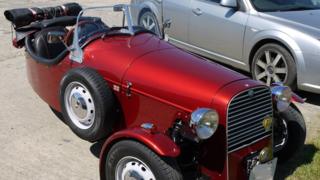 A 58-year-old driver was killed when his three wheeled car hit a hedge and rolled over.
The blue and red DRK came off the B3232 near Barnstaple in Devon at 11:30 BST on Sunday, said police.
The driver, who has not been named, was the only person in the car and no other vehicles were involved in the crash.
The road was closed for about five hours for an investigation by Devon and Cornwall Police's Serious Collisions Investigation Unit.
Read more on this story as it develops throughout the day on our Local Live pages.