PC Sarah Cohen public misconduct hearing in private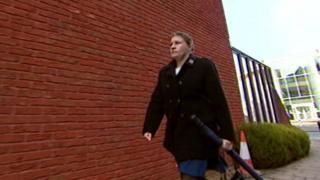 A gross misconduct hearing against a police officer that had been due to be heard in public next week will now be held behind closed doors.
Devon and Cornwall Police officer Sarah Cohen will face the two-week hearing in private on Monday.
It was due to be in public under new legislation to make disciplinary hearings more open.
But the force said because the alleged incidents took place before the change, the hearing would be private.
Read more on this story as it develops throughout the day on our Local Live pages.
PC Cohen, 38, was acquitted at Exeter Crown Court last year of trying to stop a victim's parents from reporting a sexual assault on a child by her boyfriend James Reading.
She was found not guilty of attempting to pervert the course of justice.
Air cadet sergeant Reading was jailed in 2012 for sexual assault.
PC Cohen, who has been suspended since 2013, had been on duty at Launceston police station in Cornwall when Reading rang her in the early hours one morning.
He said he was at Meldon Dam near Okehampton, Devon, and was contemplating suicide.
She raced to the scene to calm him down without telling her control room but ended up using incapacitant spray to subdue him and he was held under the Mental Health Act and not arrested.
Within hours she discovered that Reading had gone to the dam after sexually assaulting a 14-year-old girl after plying her with alcohol.
Cohen, of Lifton, Devon, had been in a relationship with Reading for six years and engaged to him for a year when the assault took place in November 2011.