Man jailed for 20 years for historic sex abuse in Devon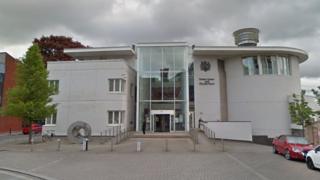 An 84-year-old man has been jailed for more than 20 years for the "dreadful" abuse of four young girls in the 1980s and 1990s.
Kenneth Tucker, a retired agricultural engineer who is blind and in a wheelchair, had denied four counts of rape and 17 of indecent assault.
Exeter Crown Court heard how police did not prosecute when one victim complained at the time.
The victims were aged between six and 14 years old.
Judge Graham Cottle sentenced Tucker to 21-and-a-half years and described the abuse as "perfectly dreadful", saying Tucker, from Tiverton, used the girls as his "sexual plaything".
He said: "You have got away with this for more than 20 years but justice has finally caught up with you."
Though one victim complained at the time, police did not prosecute until the other three came forward in 2013 and 2014, the court was told.
The court also heard how Tucker abused the girls at different times between 1984 and 1998, when they were on holiday at his smallholding at Rackenford, in Devon.
Tucker groomed the four girls by taking them to sweet shops in Tiverton, before the abuse escalated to forced oral sex and in the case of one victim, repeated rape, the court was told.
Det Con Simon Scotthorne, of Devon and Cornwall Police, praised the victims for their "courage and co-operation".