Plymouth harbour drowned 'thief' case sparks IPCC plea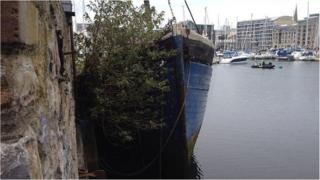 The police watchdog has called for national guidance for forces following the death of a suspected bike thief who drowned in a marina after being chased by officers.
Darren Wakefield, 35, jumped into a harbour in Plymouth in October 2014 and died after he became trapped.
Devon and Cornwall Police referred the case to the Independent Police Complaints Commission (IPCC).
The coroner recorded a narrative conclusion.
More on this story and other news from Devon and Cornwall
Mr Wakefield became stuck between an old shipwreck and a harbour wall in the city's Sutton Harbour.
Tom Milsom, IPCC Associate Commissioner, said: "The IPCC investigation found that officers involved in the initial pursuit and subsequent rescue attempts of Mr Wakefield acted within professional guidelines.
"We have though advised the National Police Chiefs Council that all forces should have better guidelines for working with other agencies when dealing with water rescues."
Devon and Cornwall Police worked with Ministry of Defence Police (MDP) officers in the attempted rescue.
The investigation also found some confusion within the MoD control room over the policies for assisting other police forces.
An MDP spokesman said: "The MDP is aware of the IPCC recommendations relating to this matter and will take action around any required improvements in communications.
"MDP always try to assist local police forces when appropriate and within their jurisdiction and this is standard practice."
Mr Wakefield, who was unemployed, was being pursued after a bike was stolen from nearby Plymouth Hoe at about 06:00 BST on 12 October 2014, the hearing was told.