Devonport nuclear base safety warning to be lifted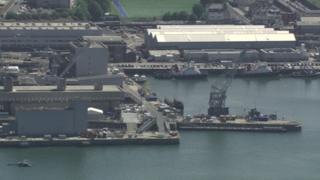 Nuclear watchdogs are to lift a warning of legal action against the UK's nuclear submarine refit base following safety improvements.
The Office for Nuclear Regulation (ONR) issued an improvement notice to Devonport in December 2014 after a worker received a dose of radiation.
The ONR said the dose was "very small" but it "highlighted shortfalls" in safety standards at the yard.
The regulator said the notice would be lifted "at the end of this week".
Bill King, ONR site inspector, confirmed after an inspection on Monday the watchdog was satisfied the necessary changes had been made.
He said yard operator Babcock had put in "considerable" work on improving safety at the site.
"We are now content to close the improvement notice," he said.
---
DEVONPORT DOCKYARD
Devonport, the largest naval base in western Europe, has been supporting the Royal Navy since 1691
The site covers more than 650 acres and has 15 dry docks, four miles of waterfront, 25 tidal berths and five basins
Employs 2,500 service personnel and civilians, supports about 400 local firms and generates about 10% of Plymouth's income
Source: MoD
---
Mike Homer, Babcock's managing director of submarines at Devonport, welcomed the move.
"We had really good buy-in from the workforce in terms of improvements," he said.
The base, which services Britain's nuclear submarine fleet, is still under special measures imposed by the ONR.
The "enhanced regulatory attention" was imposed in 2013 after a number of other safety concerns about the site.
The ONR has warned Devonport might remain in special measures until 2020.