GMB calls Derriford Hospital parking increase 'outrageous'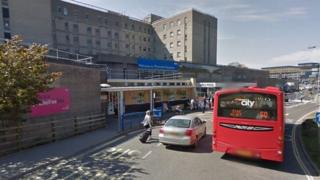 A proposed price increase for staff parking at Derriford Hospital has been dubbed "outrageous" by a union.
The consultation into changes to staff parking charges at Plymouth Hospitals NHS Trust could see prices rise from £2.50 a day to £3 a day from April.
Ray Stewart, GMB Plymouth Health Branch secretary, said the rise would impact morale and the recruitment of staff.
Nick Thomas, from the hospital, said any change in cost is "not a decision the board will take lightly".
Any change would not affect those staff who pay monthly by salary sacrifice, the BBC understands.
'Final decision'
Mr Stewart said the union was opposed to any rise.
He said: "This further increase in parking charges will do absolutely nothing for morale and will make recruitment and retention an even more impossible challenge."
The cost of staff parking at the hospital more than doubled in April 2014, when it went from £1.20 a day to £2.50 a day after a five-year price freeze.
Mr Thomas, director of planning and site services, cited "continued pressure on the cost of providing staff parking spaces" as a reason for the consultation, as well as a previous board commitment to review charges annually.
He said: "We recognise that any changes to staff car parking charges will have an impact on our staff, which is why this consultation has been launched.
"It must be stressed that this is purely a consultation process at this stage and comments received from union representatives and staff will be presented alongside this proposal to the trust board, which will ultimately make the final decision.
"No date has yet been set for presentation to the board."