Exeter University students' anger as exam disrupted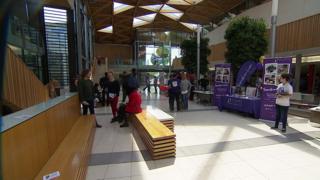 Students at Exeter University claim their exams were disrupted by a series of announcements about wrong questions.
Exams in biology and politics were halted by invigilators after students raised concerns about mistakes.
Students sitting other exams said they were also "stressed out" by the "confusion" in the hall of about 400 undergraduates.
The university said problems were dealt with "swiftly and responsibly to minimise the impact on students".
Exeter is one of 24 members of the Russell Group of leading universities and charges up to £9,000 a year for full-time degrees.
Disruption occurred during exams in biology, politics and international relations at the university on 6 and 8 January, students said.
Nicola Foster, a first-year biosciences student, said invigilators warned students about incorrect answers on multiple choice questions half way through her exam
"We had a stressful revision period over Christmas for our first university exams, to find that the exam hadn't even been thoroughly checked which I found frustrating and unfair," she said.
"I'm sure that the department will ensure further checks for the summer exams to avoid confusion again."
International relations fresher Clara Miret Darbonell, 18, said 20 minutes after her exam started an invigilator announced that a question should not be answered because it had already been used in coursework.
"Everyone started whispering and swearing and 10 minutes later we were told to do it after all," she said.
Students were given an extra 10 minutes on the exam but Clara said she was left "stressed and upset".
Natasa Christofidou, 19, who was sitting an economics exam in the same hall said: "Every 20 minutes there was an announcement about an exam.
"I was stressed because I thought it was my paper that was wrong."
A university spokesman said: "The university makes every effort to ensure all exams are organised and conducted fairly, accurately and appropriately.
"Occasionally, an unforeseen issue may arise during an exam.
"Any student who wishes to raise concerns regarding an exam can discuss them directly with their college."