Balfour Beatty pays £137k to whistleblower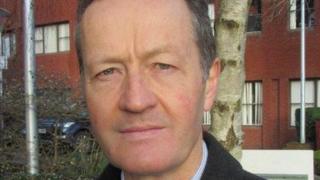 Construction contractor Balfour Beatty has paid out a six-figure sum to a whistleblower who accused the firm of ripping off taxpayers.
Nigel McArthur, from Devon, claimed he was hounded out by his bosses after he made a protected disclosure about an £18.5m office building project in Cardiff.
The firm admitted liability for unfairly dismissing him.
The company paid £137,000 before the case was due to be heard at a tribunal.
The Welsh government awarded a contract to Balfour Beatty to construct a building in Callaghan Square as part of a regeneration on a vacant site.
The project was later halted but the firm was paid about £600,000 for work carried out.
The whistleblower said the firm's true sub-contract costs had been hidden, and its profit margins increased from an agreed 3.3% to 7.34% because it submitted the lowest quotes from sub-contractors.
Pre-construction manager Mr McArthur, 56, from Exmouth, said he reported his findings to his line manager but "was told that he should not have investigated the costs or alternatively that he should not be concerned about it".
'Provided full disclosure'
Mr McArthur, who has not worked since he quit the firm in February 2015, said he was later bullied.
His solicitor, Terry Falcao, of Stephens and Scown, said the claim was brought in February 2015, and was met with denials until last November, just two weeks before a full five-day hearing was due.
Balfour Beatty admitted liability with the caveat that it had not carried out criminal activity or breached legal obligations.
It said it regretted that it "failed to properly support our employee following concerns they raised".
It added it also "provided full disclosure to the Welsh Assembly who were satisfied with our approach".
The Welsh government did not comment.