Plymouth harbour bike man drowned fleeing police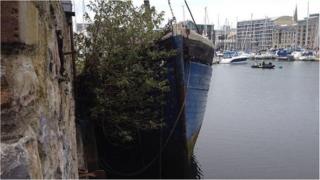 A suspected bike thief drowned after he jumped into a marina as he was being chased by police, an inquest has heard.
After dumping the mountain bike in Plymouth's Sutton Harbour the suspect jumped into the water but became stuck between an old shipwreck and a harbour wall.
A lifeboat crew rammed the wreck to try and free Darren Wakefield, 35, but the old ship crumpled on impact.
He was "seen to submerge under rising water" and his body was later found.
Mr Wakefield, who was unemployed, was being pursued after a bike was stolen from nearby Plymouth Hoe at about 06:00 BST on 12 October 2014, the hearing was told.
Members of his family were reduced to tears at Plymouth Coroner's Court as they heard calls between the emergency services at the scene.
In one taped call from police Sgt Ryan Canning, they heard: "This barge never floats. He has got 10 minutes to live. This is a critical incident."
Eyewitness Derek Sims was working at the China House pub as a cleaner when he saw Mr Wakefield jump into the sea.
Mr Sims said: "He was shouting from the boat 'help I'm stuck, I'm stuck'."
Det Insp Roy Linden told the hearing that police officers PC Simon Lemon and PC Vanessa Triscott responded to the call about the stolen bicycle.
The jury saw CCTV footage which showed Mr Wakefield running towards the water as PC Triscott gave chase on foot.
Det Insp Linden said the all weather lifeboat "tried to ram the vessel to release Darren Wakefield" but The Guiding Star was so rotten it crumpled and "could not be moved".
Pathologist Dr Deborah Cook said Mr Wakefield had levels of drugs including heroin, amphetamine and a legal high in his system which may have affected his 'appreciation of where he was'.
The inquest continues.