Exploratory work on underwater cable from France to the UK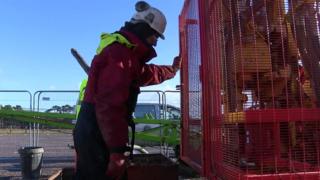 Drilling is taking place to establish the location of an electricity cable connecting France with the UK via the island of Alderney.
Exploratory work has begun at Budleigh Salterton in Devon where it is planned the underground cable will come ashore.
Those behind the project, known as FABLink, say the cable could save UK consumers about £1bn a year.
The cable could transport energy between France, the UK and a renewable energy project planned near Alderney.
It is hoped construction will begin in 2018 on the project.
The set of four cables will travel nearly 220km (140 miles) between the electrical substations at Menuel, on the Cotentin peninsula in France and Devon.
The cables would be laid underground through the Area of Outstanding Natural Beauty around Budleigh Salterton to connect with the National Grid.
Each cable is approximately the width of a compact disc.
Chris Jenner, FABLink development manager, said the project would save consumers money "by enabling access to cheaper electricity from other countries".