Man who died in police care in Devon 'never aggressive'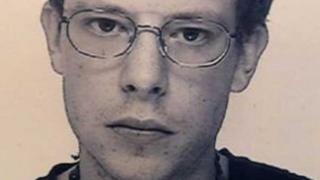 A church warden who died after he was restrained by police officers while in custody was never aggressive or violent, his mother has told a court.
Thomas Orchard, who had schizophrenia, had a cardiac arrest in a police cell in 2012 after a webbing belt was put across his face to stop him biting.
Alison Orchard said her son was "abrupt" but she had "never" seen him try to bite someone.
Three officers deny manslaughter charges.
Custody Sgt Jan Kingshott, 44, and civilian detention officers Simon Tansley, 38, and Michael Marsden, 55, each deny two charges.
The first charge alleges the trio carried out an act or series of acts which unlawfully killed Mr Orchard and the second alleges they unlawfully killed Mr Orchard by gross negligence.
Mr Orchard, 32, died in hospital in October 2012, seven days after he had been arrested on suspicion of a public order offence by Devon and Cornwall Police.
Bristol Crown Court heard how Mr Orchard had been held down for more than 20 minutes by several police officers and detention staff at Heavitree Road police station in Exeter.
When staff re-entered his locked cell they discovered he was not breathing.
Been to prison
In a written statement, Mrs Orchard described her son's descent into mental illness after "dabbling in recreational drugs" and later taking heroin.
She said her son had been sectioned twice, and had been to prison for a few months in his early 20s.
Mr Orchard's support worker Nicholas Durant, also said he had never witnessed any outbursts from him.
But he said Mr Orchard had visibly relapsed before his arrest, and doctors were considering admitting him to a psychiatric unit on the day of his arrest.
The trial was adjourned.