Bideford estate pond led to gardens flooding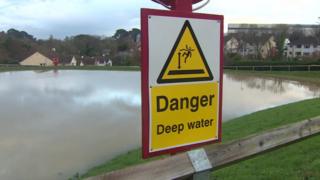 A developer has admitted a pond on its housing estate has contributed to flooding of nearby properties' gardens.
Residents of Acacia Close in Bideford, Devon, have complained about the flooding since the College Park estate was built two years ago.
Tests by the local authority using dyed water have now traced the floodwater to a pond on the estate.
Redrow Homes has apologised and said it would remedy the problem "as soon as possible".
The College Park estate has a drainage pond from which water flows into the road.
But after the estate was built, residents living near the pond noticed their gardens were being flooded.
A dye test by Torridge District Council carried out 12 months ago was inconclusive, but the council did another test after complaints continued.
Reuben Cooke, technical manager of Redrow Homes in the West Country, said the firm was "very sorry" about the flooding.
"The drainage system we implemented was approved by the Environment Agency and Devon County Council and we believed was appropriate for the development," he said.
"We are now in discussion with Devon County Council to change the design of the drainage system to alleviate the flooding affecting the gardens at Acacia Close."
Terry Williams, 75, who lives with wife Olwyn, 71, in Acacia Close, said they feared the flooding could come into their home.
"The stress has been unbelievable because no-one would accept it was their problem," he said.
"We are both retired and we don't deserve this sort of aggro."
Torridge District Council said in a statement: "Provisional plans have already been drawn up so we are hopeful that the matter can progress quickly."