Devon nurseries shut after ex-worker held over indecent child images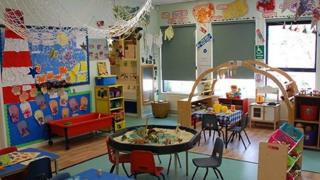 Two Devon nurseries have been temporarily closed after a former employee was arrested on suspicion of possessing and distributing indecent images of children.
Ofsted said it had suspended the registrations of two Mama Bear's Day Nurseries in Paignton.
The BBC understands the alleged offences are not connected to the nurseries.
The nurseries urged Ofsted to "report its findings as soon as possible".
A 43-year-old man was arrested and bailed by police until 5 May, it was reported on Friday.
Mama Bear's Day Nurseries said its premises on Long Road and Queen Elizabeth Drive were closed on 11 January and would remain shut until 21 February while Ofsted investigated.
A spokesperson for the nurseries said: "The Ofsted investigation is related to a police investigation concerning a former employee of the nursery.
"We are co-operating with Ofsted and the police on this matter."
Ofsted said it was "working with Devon and Cornwall Police to help them with their enquiries".
A spokesperson for South Devon College, where the Long Road nursery is based, said Mama Bears was a separate facility.