Fallen tree kills rescue horse at Ponderosa Pony Rescue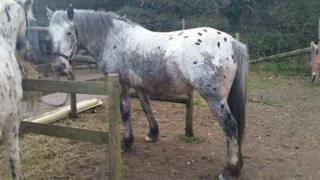 A horse was killed at a rescue centre when it was hit by a tree blown down in a storm.
Ponderosa Pony Rescue centre in Devon said the tree landed on an Appaloosa mare named Apache and killed her instantly.
The freak accident happened on Saturday afternoon at the centre at Efford on the outskirts of Plymouth.
The rescue centre announced the death on its Facebook page and said the tree had broken the neck of the horse.